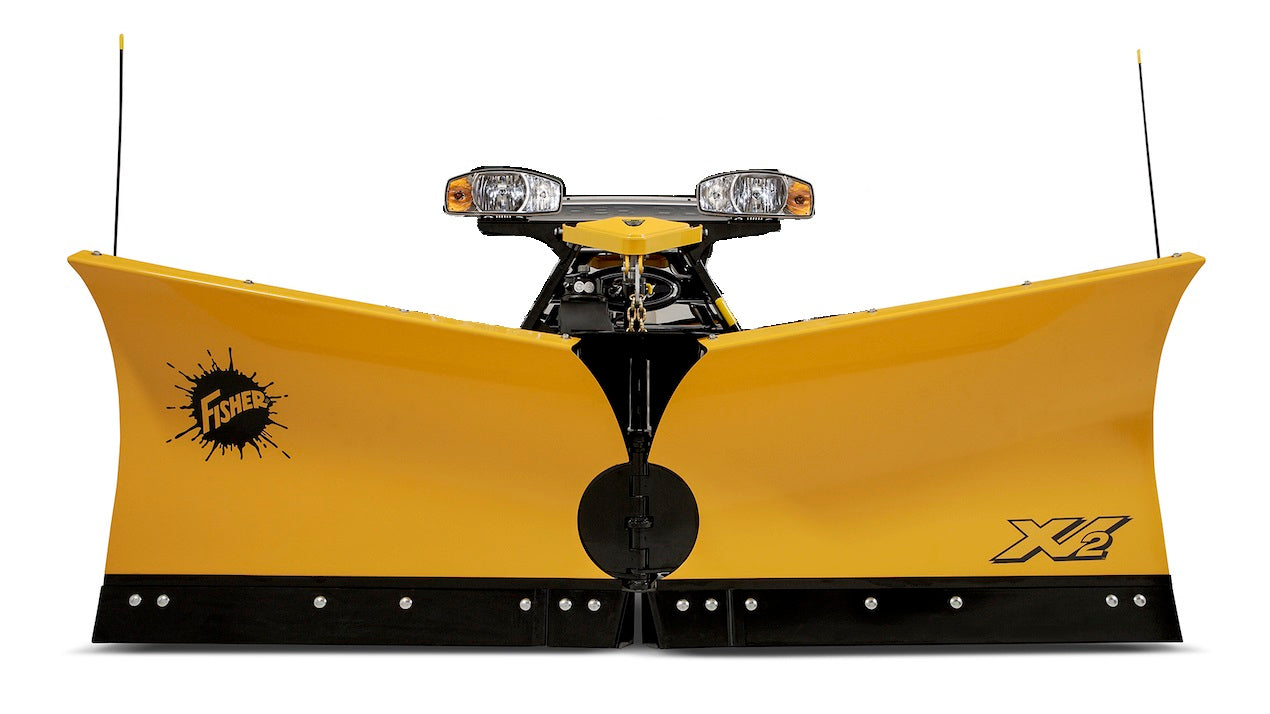 FISHER® XV2™ V-Plow Snowplow
Tougher Than Winter
When winter gets tough, get even tougher with the FISHER
®
XV2
™
v-plow. Built to power through any storm, the FISHER XV2 v-plow comes equipped with extreme flared wings—up to 45″—and double-acting cylinders to easily handle anything thrown in its path. Plus, it's qualified for vehicles up to Class 6, so it's as versatile as it is hardworking.
Plow Blade Construction

The XV2 v-plow features extreme flared wings that soar from a 35" center height up to 45" at the outer edge on 10' 6" models. The XV2 v-plow is available in premium, corrosion-resistant stainless steel and powder coated steel in 8' 6", 9' 6" and 10' 6" widths.
The blade comes standard with a 6", high carbon steel cutting edge, providing increased wear resistance and a clean scrape.
An aggressive, 70-degree attack angle enhances scraping and back dragging, making it ideal for asphalt and paved surfaces, and for scraping up ice and hard-packed snow.
Structural Reinforcement
The XV2 v-plow features our exclusive x-bracing design which is constructed from four vertical ribs and eight x-bracing ribs. Both the ribs and the boxed steel tube reinforce the blade for structural integrity and exceptional torsional strength.
A 1 ¼"-diameter, heat-treated steel center pin resides within a three-connection-point hinge for added strength and rigidity.
Reliable Hydraulics
We design and manufacture our own hydraulics to ensure the highest standards of performance, quality, and durability—giving you a plow that is fast, responsive, and built to last. This allows plow drivers to change the blade position quickly and easily for efficient plowing.
All critical hydraulic components are fully enclosed for protection from the elements.
Trip Protection
Each v-plow blade features independent trip-edge protection to get over bumps and hidden obstacles, whether in V, scoop, or straight-blade configuration, helping to protect the plow, the truck and the operator. Since only the bottom edge trips, snow stays in front of the blade, so you can keep on going without dumping the entire load of snow.
The FISHER® trip edge uses compression-type springs that never require adjustment and will not wear out like extension springs.
Double-Acting Cylinders
InstaLock double-acting cylinders allow the operator to lock the wings together to use the v-plow in straight blade mode with single button control. Double-acting cylinders also hold the wings firmly in place for clean, efficient back dragging.
Center Snow Control
For exceptional snow containment in all positions, the XV2™ v-plow has a center deflector designed to prevent snow from going over the top of the blade and the formed cutting edges reduce trailing snow.
10' 6" Heavy-Duty Features
The 10' 6" XV2 v-plow model comes standard with specific heavy-duty features.
Blade Construction: Thicker moldboards and a more robust base angle with additional hinge points.
Heavy-Duty T-Frame: Features solid, one-piece construction from front to back and an oscillating pivot bar.
Standard Blade Angle Stops: Made of reinforced 3/16" high-strength steel tube, the blade stops reduce stress and wear on the blade.
Standard Curb Guards: Constructed of abrasion-resistant material and designed to fit tight to the blade, the curb guards protect the outer edge of the plow from wear when plowing along sidewalks and curbs.
Tractor Compatible Mount
Designed for easy installation onto a wide range of tractor models, these mount kits make it possible for the XV2 v-plows to fit on a compact tractor. They are flared both vertically and horizontally to ensure proper alignment and make the drive-in connection easier. The push beam, which makes up the front portion of the mount, can be quickly detached to allow for a loader attachment.