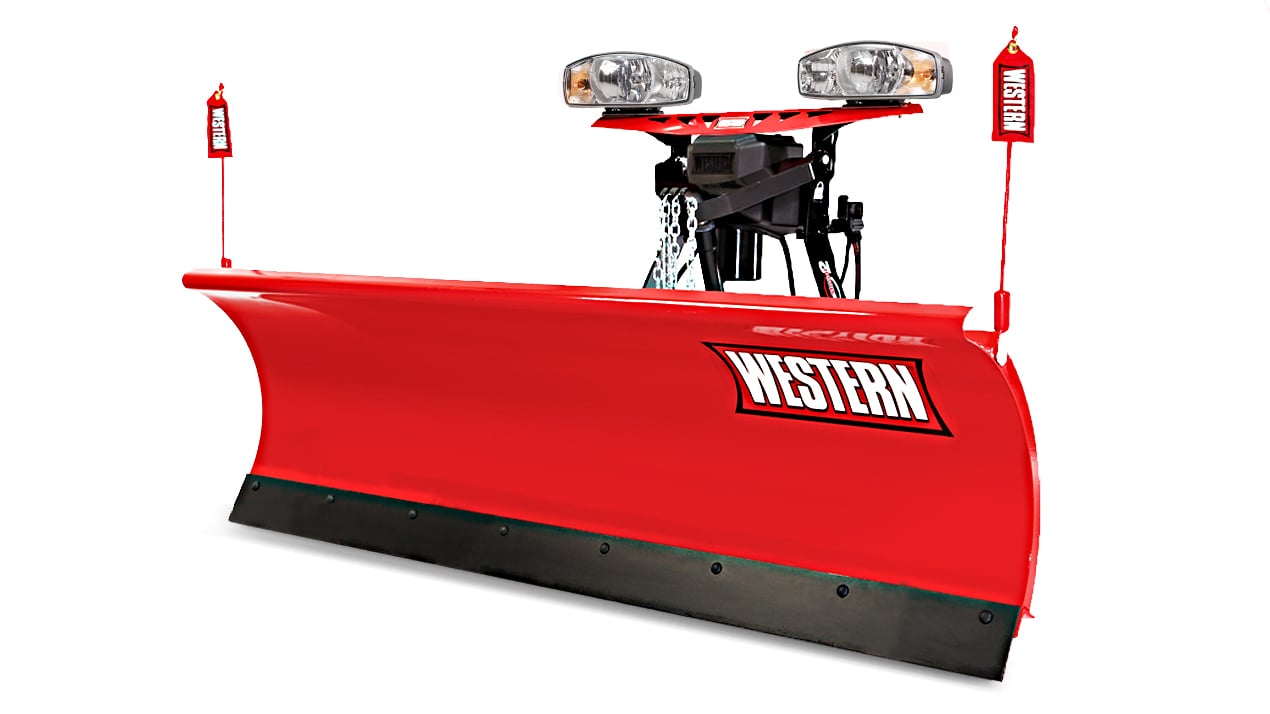 WESTERN® PRO-PLOW® Series 2 Straight Blade Snowplow
SKU
Pro-Plow Plow Package
THE
 

BEST-SELLING

 WESTERN®

 

STRAIGHT BLADE

With customers counting on you, it's time to invest in a plow you can trust. There's a good reason the WESTERN® PRO-PLOW® Series 2 snow plow remains one of the best-selling straight blades in the business.
PLOW BLADE CONSTRUCTION
The rugged moldboard is 29" tall and comes in 11-gauge powder coated steel in 7' 6", 8', and 8' 6" widths. It is also available in 3/8" high-density polyethylene* in 7' 6" and 8' widths.
The durable poly blade provides a slick surface for enhanced snow-rolling action and a maintenance-free surface. The steel blade features our high quality ULTRAFINISH™ powder coat surface.
A 60-degree attack angle delivers balanced, clean-scraping performance, and a high carbon steel cutting edge comes standard to reduce wear and extend the life of the blade.
*A rubber snow deflector comes standard on the poly version.
RELIABLE HYDRAULICS
We manufacture our own hydraulic components to ensure the highest standards of quality and reliability, so that you get a hydraulics system that's not only fast and responsive, but that's built to last season after season.
Fully enclosed components are protected from the elements.
STRUCTURAL REINFORCEMENT
Seven vertical ribs provide structural reinforcement for exceptional torsional strength and rigidity to eliminate blade twisting.
The high-strength steel base channel provides extra support along the bottom of the plow blade.
The 1" diameter pivot bolt secures the plow in place, ensuring proper alignment and reducing stress on the overall plow assembly.
TRIP PROTECTION
Four heavy-duty coil springs protect your plow and truck by allowing the whole blade to trip when striking obstacles.
The shock absorber reduces jarring and softens the blade return when tripping occurs, to extend the life of your truck and plow.
SHOE KIT
Protect your plow and the road, while extending the life of your cutting edge with an adjustable shoe kit. The cast iron construction and shape increases the surface contact area and helps glide over gravel and dirt at the correct height. Extending cutting edge and base angle life when plowing on rocky or abrasive surfaces.
Visit http://www.westernplows.com/products/pro-plow-series-2/ for more information.