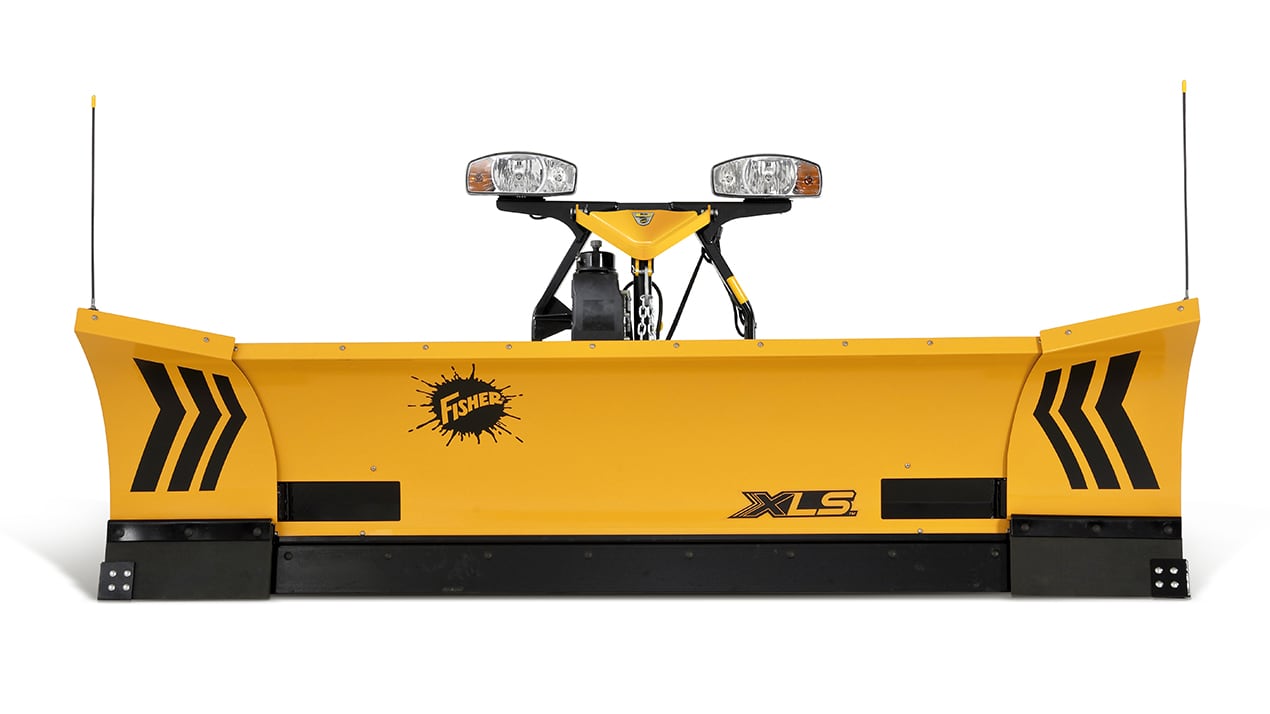 FISHER® XLS™ Winged Snowplow
Save

20

%
Original Price
$10,785.00
When Winter Attacks, Fight Back in a Big Way
When winter attacks, fight back in a big way. The next generation of the XLS™* expandable wing snowplows delivers a whole new level of versatility, efficiency and performance. The only expandable plow with independent wing control and trip-edge protection, the XLS plows come with flared wings and are available in two blade sizes: 8'–10' and 8'6"–11'. They are built bigger and stronger to carry more snow and accommodate larger trucks. Maximize handling and capacity with unmatched windrowing productivity so you can continue doing what you do, more efficiently and profitably.
Plow Blade Construction
Available in powder coat or stainless steel, the XLS snow plow is available in two blade widths.
The 31" tall, 14-gauge moldboard features independent wing control and comes standard with a 6" high-carbon steel cutting edge, increasing wear resistance, and the poly wing cutting edges feature trip protection. The blade is also pre punched for easy accessory installation.
Expandable to 11'
The 8' XLS retracted blade extends to 10'. Angle the 35" flared wings forward for an 8' 10" scoop position. The 8' 6" XLS retracted blade extends to 11'. You can also angle the 36" flared wings forward for a 9' 10" scoop position.
Structural Reinforcement
The next generation XLS™ snow plow features a heavy-duty torque tube and ten vertical ribs for substantial structural support. The tough construction of this channel provides rigidity and blade strength to eliminate buckling under extremely heavy forces.
Heavy-Duty Slide Box
Hydraulic wing extensions slide laterally across the structurally reinforced slide box, constructed with 3/16" heavy-grade steel to maximize snow removal capacity without buckling.
Flared Wings for Efficiency
The XLS plows feature flared wings as tall as 36" to maximize snow plowing efficiency at the touch of a button with Retracted Straight, Expanded Straight, Windrow and Scoop modes. The flared-wing design can aggressively cast snow further while windrowing, making it the ultimate windrowing machine. The wings expand forming an even larger plow to move more snow and can retract for transport. The flared wings can be controlled independently, quickly changing the plow configuration from retracted to expanded, to scoop and to windrow.
Reliable Hydraulics
We design and manufacture our own hydraulics to ensure the highest standards of performance, quality, and durability—giving you a plow that is fast, responsive, and built to last. This allows plow drivers to change the blade position quickly and easily for efficient plowing.
All critical hydraulic components are fully enclosed for protection from the elements.
Trip Protection
Our industry-leading trip-edge design protects you and your equipment when encountering hidden obstacles. For improved efficiency and less cleanup, only the bottom edge trips, keeping the blade upright and plowed snow in front of the blade.
The FISHER® trip edge uses compression-type springs that never require adjustment and will not wear out like extension springs.
The XLS™ wings feature polyurethane cutting edges designed specifically to provide added trip protection.
Tractor Compatible Mount
Designed for easy installation onto a wide range of tractor models, these mount kits make it possible for the XLS™ winged plow to fit on a compact tractor. They are flared both vertically and horizontally to ensure proper alignment and make the drive-in connection easier. The push beam, which makes up the front portion of the mount, can be quickly detached to allow for a loader attachment.
Visit https://www.fisherplows.com/products/xls/ for more information.
LED headlights, snow deflectors, back drag edges, and other accessories are available.