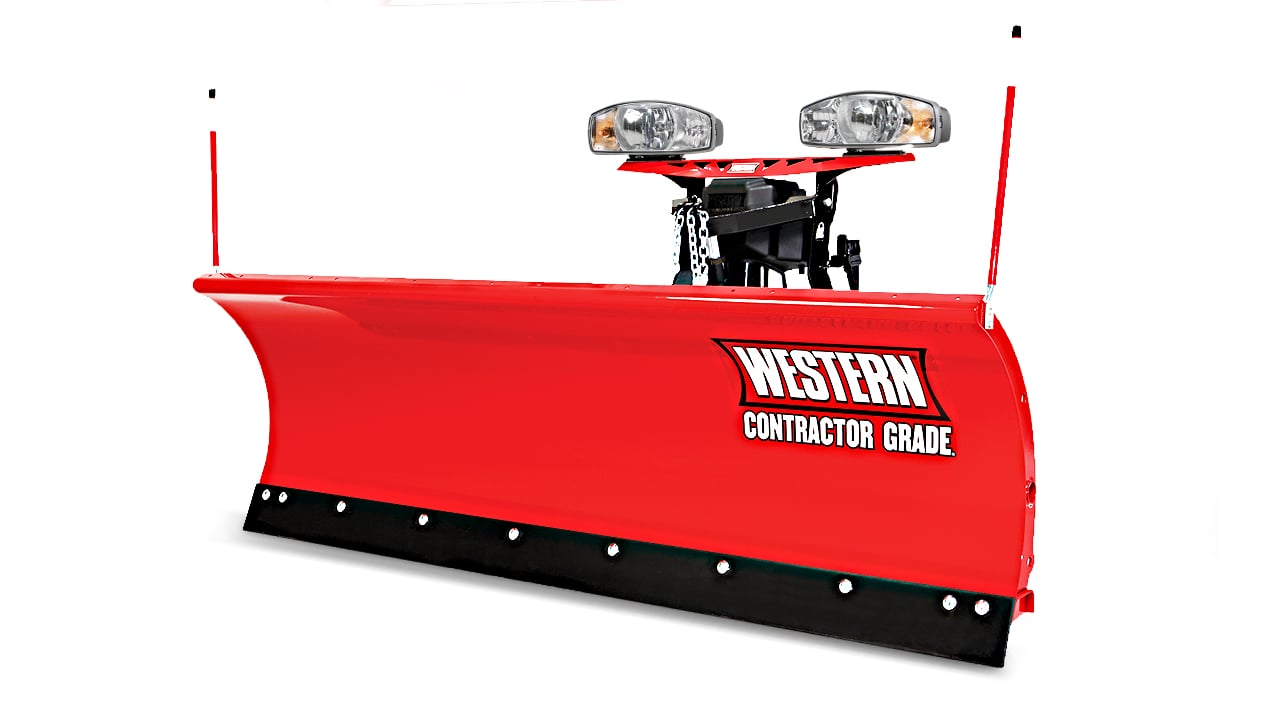 WESTERN® PRO PLUS® Straight Blade Snowplow
SKU
Pro Plus Plow Package
HEAVY-DUTY
 

CONTRACTOR GRADE

®

 PERFORMANCE

Give winter all you've got with the WESTERN® PRO PLUS® snow plow. Designed to fit a wide range of vehicles, this rugged straight blade is the ultimate tool for the toughest commercial operations.
PLOW BLADE CONSTRUCTION
The robust 12-gauge powder coated steel moldboard is a full 31½" tall and comes in 8', 8' 6", and 9' widths.
The PRO PLUS® blade features a 65-degree attack angle, and a high carbon steel cutting edge comes standard, reducing wear and extending the life of the blade.
STRUCTURAL REINFORCEMENT
Eight vertical ribs, a heavy-duty quadrant, and the exclusive WESTERN® POWER BAR provide exceptional torsional strength and rigidity, to eliminate blade twisting even under the most brutal conditions.
The high-strength steel base channel provides extra support along the bottom of the plow blade.
The 1" diameter pivot bolt secures the plow in place, ensuring proper alignment and reducing stress on the overall plow assembly.
RELIABLE HYDRAULICS
We manufacture our own hydraulic components to ensure the highest standards of quality and reliability, so that you get a hydraulics system that's not only fast and responsive, but that's built to last season after season.
Fully enclosed components are protected from the elements.
TRIP PROTECTION

Four heavy-duty coil springs protect your plow and truck by allowing the whole blade to trip when striking obstacles.
Dual shock absorbers reduce jarring and soften the blade return when tripping occurs, to extend the life of your truck and plow.
SKID-STEER COMPATIBLE MOUNT
The PRO PLUS® snow plow is also available with skid-steer mounting options.
TRACTOR COMPATIBLE MOUNT KIT
Designed for easy installation onto a wide range of tractor models, these mount kits make it possible for the PRO PLUS straight blades to fit on a compact tractor. They are flared both vertically and horizontally to ensure proper alignment and make the drive-in connection easier. The push beam, which makes up the front portion of the mount, can be quickly detached to allow for a loader attachment.
Visit http://www.westernplows.com/products/pro-plus/ for more information.