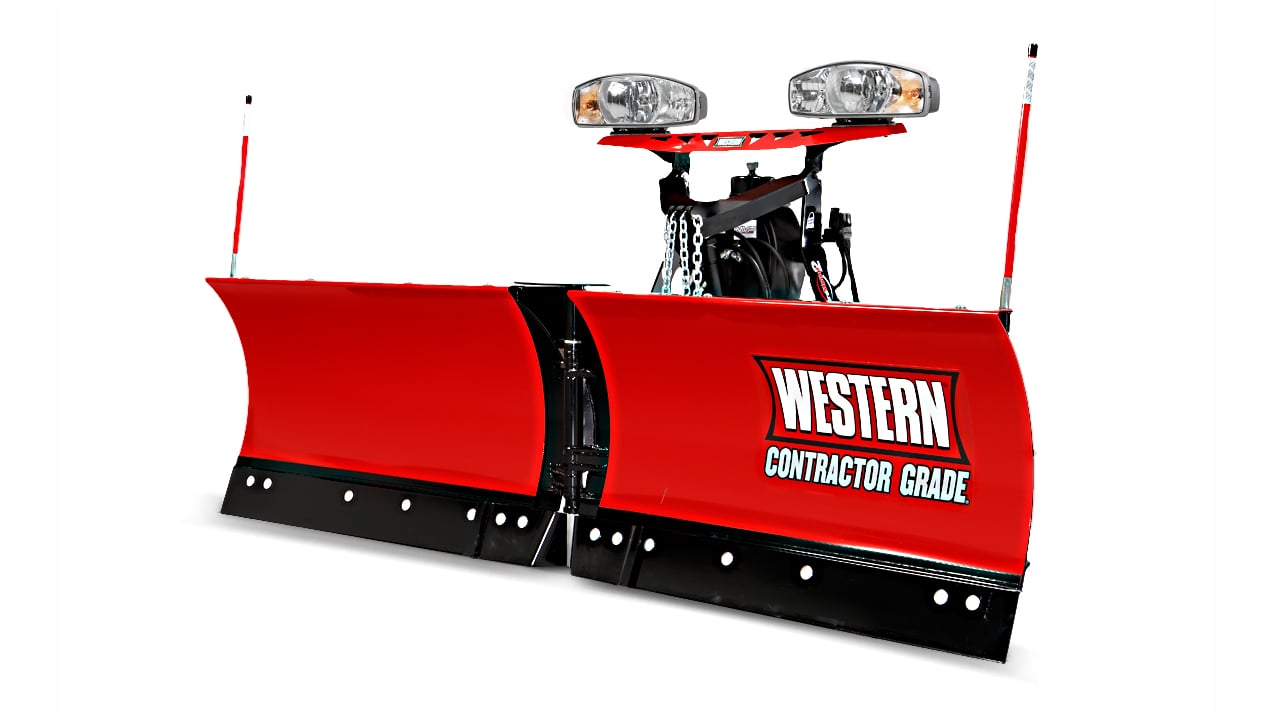 WESTERN® MVP PLUS™ V-Plow Snowplow
SKU
MVP Plus Plow Package
V-PLOW
PERFORMANCE
Like all WESTERN® products, the MVP PLUS™ v-plow is built for efficiency, durability and performance—but it also gives you the added level of productivity that only a v-plow can achieve, letting you cut through deep banks and clear more snow in fewer passes.
PLOW BLADE CONSTRUCTION
The MVP PLUS™ v-plow is available in 14-gauge powder coated steel or 1/4" high-density polyethylene in 8' 6" and 9' 6" widths.
The durable poly blade provides a slick surface for enhanced snow-rolling action and a maintenance-free surface. The steel blade features our high quality ULTRAFINISH™ powder coated surface.
The 70-degree attack angle provides a clean scrape, and a high carbon steel cutting edge comes standard, reducing wear and extending the life of the blade.
STRUCTURAL REINFORCEMENT
Eight vertical ribs on the 8' 6" and 9' 6" models, combined with the exclusive WESTERN® POWER BAR, provide exceptional torsional strength and rigidity to eliminate blade twisting. The high-strength steel base channel provides extra support along the bottom of the plow blade.
A 1" diameter steel center pin resides within a two connection point hinge, keeping the wings tight for optimal performance.
RELIABLE HYDRAULICS
We manufacture our own hydraulic components to ensure the highest standards of quality and reliability, so that you get a hydraulics system that's not only fast and responsive, but that's built to last season after season.
Fully enclosed components are protected from the elements.
DOUBLE-ACTING CYLINDERS
As a standard feature on the MVP PLUS™, UltraLock double-acting cylinders allow the operator to use the v-plow in straight blade mode by locking the wings together instead of having to toggle each wing independently.
The double-acting cylinders also hold the wings firmly in place for clean, efficient back dragging.
TRIP PROTECTION
Each blade features independent trip edge design with heavy-duty coil springs for protection when encountering bumps and obstacles. Whether in V, scoop, or straight blade configuration, the trip edge helps protect the plow, the truck, and the operator. Since only the edge trips, snow remains in front of the blade, so you can keep going without spilling the entire load of snow.
STEEL CENTER GAP COVER
For the cleanest pass in any blade configuration, the MVP PLUS™ v-plow has a snow control gap cover over the center hinge to help deflect and prevent snow from being lost over the top of the blade.
Visit http://www.westernplows.com/products/mvp-plus/ for more information.