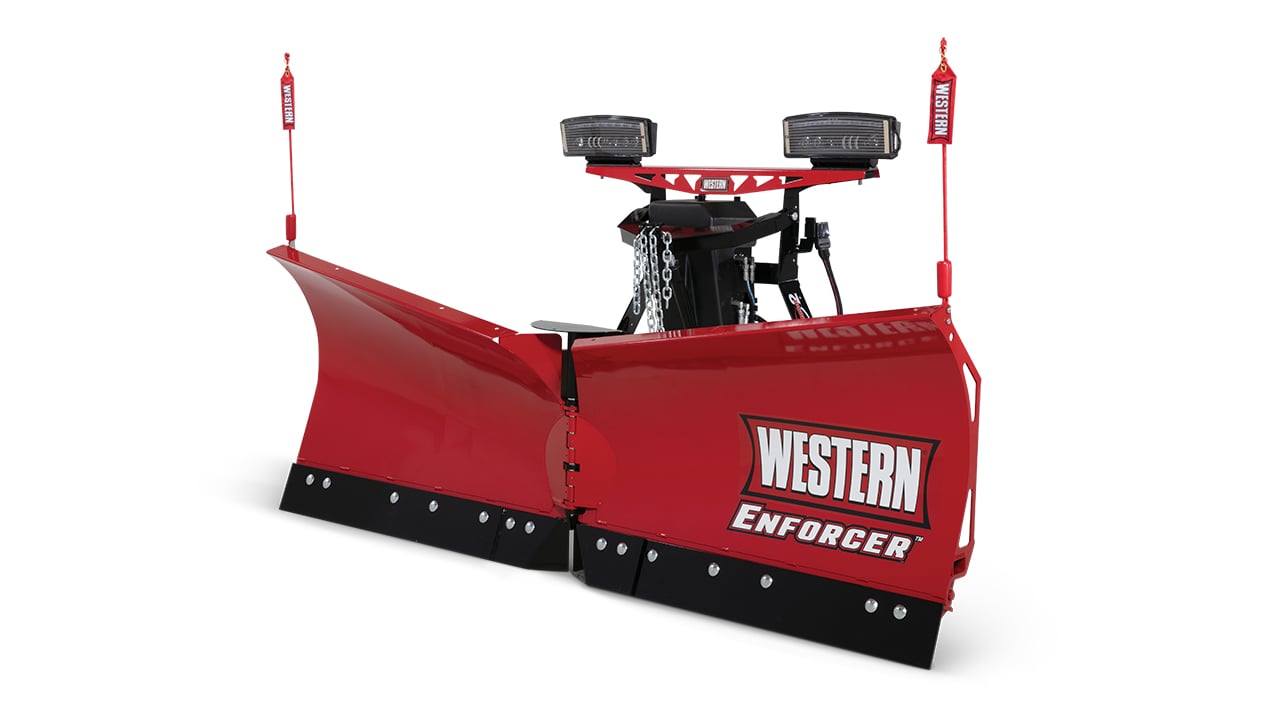 WESTERN® ENFORCER™ V-Plow Snowplow
SKU
Enforcer Plow Package
DICTATE WHAT
 

PERFECTION

IS

The WESTERN® ENFORCER™ v-plow, with trip-edge design, is constructed of high-strength, low alloy steel that makes it stronger and lighter than conventional steel, and the ideal weight for half-ton trucks. The ENFORCER v-plow is engineered with all the features, efficiency and performance of full-size WESTERN v-plows, brought down into a lightweight design for today's businesses and homeowners using half-ton trucks.
PLOW BLADE CONSTRUCTION
The ENFORCER™ v-plow is constructed of high-strength, low alloy steel that makes it stronger and lighter than conventional steel, and the ideal weight for half-ton trucks. Available in premium, corrosion-resistant stainless steel or powder coated steel, the 7'6" wide v-plow features wings that soar from a 27" center height up to 33" at the outer edge.
The blade comes standard with a 6", high carbon steel cutting edge, providing increased wear resistance and a clean scrape.
An aggressive, 70-degree attack angle enhances scraping and back dragging, making it ideal for asphalt and paved surfaces, and for scraping up ice and hard-packed snow.
STRUCTURAL REINFORCEMENT
The ENFORCER™ v-plow features six vertical ribs, plus two additional horizontal ribs on the stainless steel model, which reinforce the blade for structural integrity and exceptional torsional strength.
A ¾"-diameter, heat-treated steel center pin resides within a three-connection-point hinge for added strength and rigidity.
RELIABLE HYDRAULICS
We manufacture our own hydraulic components to ensure the highest standards of quality and reliability, so that you get a hydraulics system that's not only fast and responsive, but that's built to last season after season.
Fully enclosed components are protected from the elements.
DOUBLE-ACTING CYLINDERS
The double-acting cylinders allow operators to lock the wings together in order to control the v-plow in straight blade mode without having to adjust each wing independently. The wings also lock firmly in place for efficient back dragging capabilities.
ADJUSTABLE WIDTH CONFIGURATION
Configures to varying vehicle heights and widths in order to maintain optimum performance.
HYDRAULIC COVER
The fully enclosed hydraulic cover protects the hydraulic unit from the elements and does not require any tools to remove.
STEEL CENTER GAP COVER
For the cleanest pass in any blade configuration, the ENFORCER™ v-plow has a snow control gap cover over the center hinge to help deflect  and prevent snow from being lost over the top of the blade.
TRIP PROTECTION
Each blade features independent trip-edge design with a compression-style spring for protection when encountering bumps and obstacles that doesn't wear easily. Whether in V, scoop, or straight blade configuration, the trip edge helps protect the plow, the truck, and the operator. Since only the edge trips, snow remains in front of the blade, so you can keep going without spilling the entire load of snow.
Visit http://www.westernplows.com/products/enforcer/ for more information.