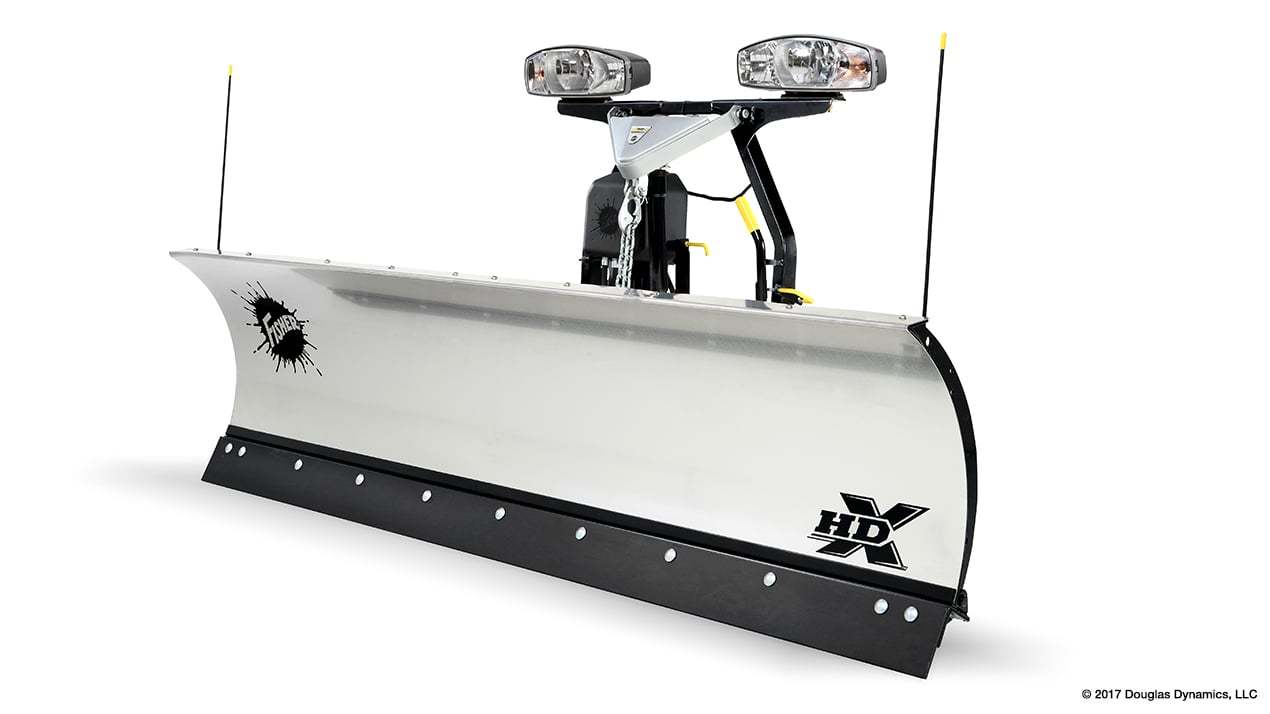 FISHER® HDX™ Stainless Steel Straight Blade Snowplow
A Whole New Way to Attack Winter
Streets, lots or driveways—Mother Nature doesn't have a preference and neither does the FISHER® HDX™ stainless steel snow plow. Armed with an adjustable blade attack angle and an oscillating A-frame, the HDX snow plow is able to dial in and provide superior results regardless of the weather or the terrain. Clad with a clean stainless steel moldboard, this plow not only does the work better, it looks better, too.
Plow Blade Construction
Available in 8' and 9' widths, the 29" tall HDX™ snow plow blade is made from corrosion-resistant stainless steel that performs as good as it looks.
A standard high-carbon steel cutting edge provides increased wear resistance.
Structural Reinforcement
The HDX™ snowplow is constructed with a total of eight vertical ribs welded into a rigid framework. The two inner ribs and base angle have additional reinforcement which provides increased structural support when attacking winter's worst.
Adjustable Attack Angle
The HDX™ snowplow features an adjustable attack angle that allows you to customize the blade's angle of attack based on plowing surfaces, weather conditions or operator preference. Its boxed-in quadrant design features three attack-angle holes for easy adjustment.
Oscillating A-Frame
With an Oscillating A-Frame, the HDX™ snow plow pivots from side to side allowing the blade to follow the contours of the plowing surface for a cleaner scrape and improved cutting edge wear.
Reliable Hydraulics
We design and manufacture our own hydraulics to ensure the highest standards of performance, quality, and durability—giving you a plow that is fast, responsive, and built to last. This allows plow drivers to change the blade position quickly and easily for efficient plowing.
All critical hydraulic components are fully enclosed for protection from the elements.
Trip Protection
Our industry-leading trip-edge design protects you and your equipment when encountering hidden obstacles. For improved efficiency and less cleanup, only the bottom edge trips, keeping the blade upright and plowed snow in front of the blade.
The FISHER® trip edge uses compression-type springs that never require adjustment and will not wear out like extension springs.
Tractor Compatible Mount
Designed for easy installation onto a wide range of tractor models, these mount kits make it possible for the HDX™ straight blades to fit on a compact tractor. They are flared both vertically and horizontally to ensure proper alignment and make the drive-in connection easier. The push beam, which makes up the front portion of the mount, can be quickly detached to allow for a loader attachment.
Skid-Steer Compatible Mount
The FISHER® HDX™ snow plow is also available with skid-steer mounting options. Clear large parking lots with the ability to easily maneuver between cars and parking islands. The oscillating skid-steer mounting plate gives you six degrees of side-to-side travel that follows contours to improve scraping and cutting edge wear while reducing damage to parking lot surfaces. This design uses the skid-steer loader's bucket hydraulics to lift and lower the blade for a more intuitive operator experience.